Sister Lucia Brady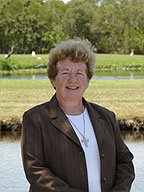 Born in Co. Cavan second eldest of five children, three girls and two boys. Life in the country was simple, neighbors were friendly and caring. I loved when the people who came to the well by our house for the fresh spring water stopped in for a chat. I loved the long summer days and being out playing in the fields, the birds singing and the fresh smell of grass as the hay in the meadows was mowed. Or hearing the corncrake or the cuckoo - that was special too. Going to the bog was fun too - usually to bring the lunch to my Dad and the men folk and it was extra special when Dad shared his lunch with me or we drank tea out of a bottle outdoors in the bog! The sun always seemed to shine those days.
When I was five or six years old a lady from my neighborhood entered the Convent and while I have no remembrance of seeing her leave I do remember my mother and the neighbors speak about her having gone and how she would not be allowed to come home for nine years. It seemed like such a long time and a great sacrifice and I believe the seeds for my own vocation were sown then. On her first visit home I was invited to her home along with my mother to meet her and I felt very special .I was about nine years old at the time.
During high school one of the Sisters asked me if I had considered entering and I acknowledged that I had certainly thought about it. I was invited to visit the motherhouse in Newry along with two other girls and following that visit the date for my entrance was set. I was sixteen and a half years old and apart from having spent a month in the Gaeltacht learning Irish and a week here and there with my cousins I had never been away from home for more than a couple of days at a time. The early days were somewhat lonely for family and friends and the penances were not at all the kind I expected! But I gradually grew into the way of life and was mostly happy especially during my time in England. In the early years I did question if the life was right for me but as time went on I grew to love the spirit of Francis and Clare and the simplicity and joy of the Sisters as well as their prayerfulness. After College I spent eighteen years in Cavan which was about twelve miles from my own home. Nine years I spent as an elementary school teacher and nine as Principal of the same school. Some of the highlights for we were the involvement with the Travellers (a nomadic Irish minority with its own language and customs that is commonly the target of discrimination and social injustice). Was involved in setting up special needs classes and hiring teachers to work specifically with the travelers in the school and, with the help of a local committee set up a pre-school for traveling children and through the generosity of our Congregation a field was donated which was later developed as a Halting Site for the travellers. Thus running water and light were provided for them ensuring a stable place for them to stay which in turn would better facilitate their being able to attend school.
I left Cavan in 1988 on a two-year assignment to work with the young undocumented immigrants in New York. While it was very exciting and a real new challenge it was a big letting go for me. I was in different work from which I was accustomed to, was away from my own community and away from friends in a new culture. It was a big adjustment but a wonderful growing experience.
In 1990 I came to St. Vincent De Paul parish in Holiday. I spent seven years there, one year in pastoral ministry to the sick and homebound and then as Director of Religious education for the following six years. It was a warm and friendly parish - a lot of older but very wonderful people. I have been at St. Jerome parish for the past eight years. I have a wonderful pastor and great opportunities for variety in ministry which I love. RCIA is a very special and wonderful process and I am most grateful for being able to journey with the catechumens and candidates as well as to work with a great team of people.
In Ireland our community groupings were larger ..here I live in a house with two other Sisters. However, the Region being small makes for greater interaction with all of the Sisters and we get together quite frequently for prayer, meetings and social activities.