Sister Lila Dempsey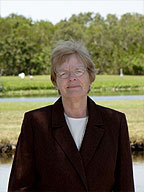 I was born on September 1931 in Mountain Ego New Ross Co. Wexford. I was always told I was born on a threshing day, the busiest day of the year .Our family was a large one of twelve and I was the eleventh child. We grew up in the wide open spaces of a farm .I had a very happy childhood. I had an older sister already in another order called the Sisters of St. John of God who are based in Wexford. My youngest sister decided to enter that order the very day I was entering the St. Clare Sisters. She declined and waited another month. Some years after my two nieces decided to enter my Sisters Order. I remembered one thing in particular that blurred this happiness. One of my brothers was studying for the priesthood and one time when he came home he died, he got pneumonia. This was the most traumatic event of my childhood.
I remembered world war one and I was frightened as the passenger planes flew high over our house at all times to and from Europe. I witnessed the bombing by the Germans of a dairy three miles from us. This aggravated my fear.
Upon completion of my high school at Loreto Abbey, Gorey I was wondering what I should be in life. Some girls in class already had entered the convents of their choice. If I was to go that route I would not know what order to enter .I thought of getting a phone directory and phoning all the convents .I eventually said it was futile and I said I would leave to God. I did decide to do some substitute teaching and I put an advertisement on the daily newspaper. After a while it was answered by an order who wanted me to subsitute in one of their schools in Wales. I did go there for some months and got to know the sisters and their spirit which I feel in love with. This order was the Sisters of St.Clare. Four years after I saw me entering that order in Newry .Sometime I will relate it. I had a job and living in Dublin and I was somewhat happy. It is most interesting how the Lord called me to enter the convent in Newry. Upon entering I found it very hard and I rebelled, I was going to leave until the Lord stooped down and touched me. This was a very big miracle of conversion. Something huge touched me, but it was very gracious and loving. The peace faith and contentment has lasted over the fifty years in religion. Praise be to the Lord.
After a few years I qualified with a science degree from the National University of Ireland in Dublin. I spent the fourteen years teaching science at St. Mary's in Newry. Then I applied to go to El Salvador or California .The next eighteen years saw me director of religious education in St.Mark's, San Marcos, California. During that time I completed a Masters in Religious Education at the University of San Diego. Of all the study I did this, was the most fulfilling. I got to realize that I did not know my religion at a deep level. I will always thank God for giving me this opportunity. I also spent one year at the University of Cork studying commerce, which I detested. This enabled me to take an office job in Dublin the year before I entered.
I had art as a very big hobby in California. I was in several art associations and studied under very good artists. 1993 saw me in St.James, Port Richey, Florida in pastoral ministry .I found it difficult to switch over from education. In pastoral ministry I found myself listening a lot. That's why we have two ears and only one mouth Caring for people is a most gentle ministry. Providence smiled on me and got an art studio in 1998. At present I am in St. James but also teach oil painting to adults and also hold classes in my studio in Golden Acres, Port Richey, Florida. In the past ten years I have had many exhibits including Tampa and St.Petersburg, Florida. Providence has provided and cared for me in a big way and how can I ever thank the Lord