Sister Bridget Mulligan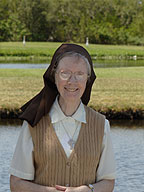 I was born in Ballinagh, County Cavan, Ireland, on March 11, 1931.
The fourth member in a family twelve (six boys and six girls).
From the time I was fourteen years old, I had a great desire to become a nun. After reading the life of St. Therese of Lisieux, this desire became stronger.
At the same time I was very well acquainted with the Sisters of St. Clare, who were well established in my hometown; one of my cousins was one of their members and I got to know the sisters very well. Their life of prayer, and their friendship and hospitality made a big impression on me.
After a few years of discernment and prayer, I felt the Lord was really calling me to become a sister of St. Clare.
I entered the convent on April 25, 1950. I made my First Profession of Vows on February 7, 1952 and my Final Profession of Vows on February 7, 1955.
Most of my religious life has been dedicated to teaching children - ages 6-12.
My teaching assignments have been in England, Scotland, Wales California and Florida.
For the past nineteen years I have been involved in Pastoral Ministry in St. Luke's Parish in Palm Harbor, Florida.