Sister Christa Rowe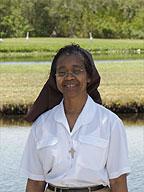 June 25, 1979 entered in Dublin, Ireland
Feb. 16, 1980 novitiate in Dublin
May 30, 1981 - 1 st vows in San Diego, CA
Jan. 26, 1985 perpetual vows in Tampa, FL

I was born on June 10, 1959 in Clearwater, Florida into a loving family, the youngest child with 3 brothers and 1 sister. When I reflect back on my first visit with the Sisters in Tampa I shall always remember the wooden door opening and Sr. Bridget Finn welcoming me warmly and each of the Sisters doing their best to make me feel comfortable and at home. Their very presence reminded me of why I too wanted to become a Sister of St. Clare that I too might lovingly serve God and the church in a caring and compassionate way bringing healing to those who are broken.
It was during these first few months with the Sisters that I came to realize that I was not to become another ticky-tacky box or ornament resembling all the rest but to bring the gifts that God had uniquely given me to add to the already beautiful textures in the fabric that compose the Sisters of St. Clare.
At one of the first formal gatherings with other women joining me in the initial formation process, I can recall the Abbess General, Sr. Helen, speaking with us and telling us that we can never catch the charism of St. Francis or St. Clare that we have come to the Order gifted with the charism. As a postulant in Ireland I attended a course with many different religious Orders. As I rubbed elbows with other religious congregations and learned of their historic origins, I must say that I rejoiced that I entered the Sisters of St. Clare and not some other Order. It was not that their Order was not rich and truly beautiful, it was that I had found the spiritual home that beckoned me from within.
These beginning years included days of discovery and exploration as I discovered Irish history and culture and others explored and shared their perceptions of American and particularly my own African American culture. I can particularly recall persons like Sr. Briege sharing opinions on the similarities of racially based prejudice and discrimination in America, and religion-based in the North of Ireland. Their witness of life and their stance for justice gave me courage and an audacity to seek the truth in love. Sharings of this nature helped me to realize that racism and bigotry does not recognize borders and that it is up to each person to stand for justice and peace.
Over the years, I had an opportunity to minister amongst diverse cultures at Holy Family in San Diego, California where I continued to gain an appreciation for the universality within Catholicism. From there I ventured over to Porthcawl in south Wales to continue my training and to get to know the Sisters of the English Region. Afterwards, I returned home to Florida and ministered to the sick and homebound at St. Lawrence in Tampa, Florida. After completing my studies at St. Leo College, I worked at the Office for Black Catholic ministries and then spent a few years at Our Lady Queen of Peace in New Port Richey as Director of the Religious Education program. I then ministered within the congregation as Formation Directress in New Port Richey and during part of this time also ministered at St. Vincent de Paul in Holiday. I then had an opportunity to minister briefly in St. Petersburg at St. Joseph's in religious education and pastoral ministry before going to Wilmington, Delaware where I am involved in evangelization and outreach among the poor and the homeless.
It was another Sister of St. Clare, Sr. Bernadette Nagle, who although by the time we met was frail and broken down by disease continued to be a courageous, generous and exemplary spirit. Although she has now gone onto God, she was and continues to be an inspiration to me. Living in Ireland, I was the only novice who could not go home for the holidays before Christmas so I was sent to visit our Sisters in Ballyjamesduff where I met Sr. Bernadette. This wonderful woman for whom every step was one of pain (as gangrene had set into her feet and many of her toes had been amputated) asked since she was not capable of going alone that I walk with her each day up the hill to our cemetery that she might make a novena praying for the nuns who had died. As we walked, she would often pause and utter a quiet moan without one complaint or word of self pity. My homesickness did not vanish but I had a new perspective on discipleship and self-giving. Even though I returned to the novitiate and crossed the ocean to return to the good old USA, this woman did not forget me, and in spite of the pain of arthritis in her hands wrote to me faithfully encouraging me in my vocation until she died.
Hopefully, my life will exemplary a small portion of the courage, faith and determination of Sr. Bernadette. Collectively, I believe, we as Sisters of St. Clare carry within us and in our spirit her memory and the passion of so many who have lived including St. Clare herself. May we as Clare's bring healing and hope to people who are troubled and despairing by sharing the God who sustains us.