Sister Philippa Synnott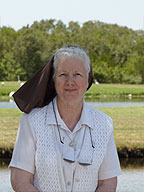 I was born in Drumcondra, Dublin City on the 11 June 1930. I have two sisters and one brother. I grew up in Dublin until 1953 when I entered the congregation. I entered the congregation in August 1953. Received on 23 February 1954, First Profession on 24 February 1955. Final Profession on April, 1958.
I had often thought of being a nun. I went to London in 1950 to study Nursing.
My friend entered the Irish Poor Clares of the Immaculate Conception in Newry County Down in Northern Ireland. This was the official title of the order until the early seventies when it was altered to (The Congregation of the Sisters of St. Clare (Ireland). I visited my friend when I came home on holidays, and I liked the sisters. They were friendly, caring and had a good spirit, which I ultimately learned is the Franciscan spirituality and simplicity. I had been in school with sisters and I had met other orders with more numbers and big convents but they did not appeal to me. Also, of course, the sisters often asked me "When would I be entering?"
I am a Registered Nurse and state Certified Midwife. I am also a Children's Nurse and I have a Diploma in Counseling. I spent most of my years in religion caring for children, newborns to sixteen years of age in our care. I was Matron of our Orphanage and then our babies Home for a number of years during which I worked at Adoptions. In later years I was Matron of a Franciscan College in Gormanston County, Meath a Secondary Boarding School for Boys aged 13-18 Years of Age.
I am currently employed by the Diocese of St. Petersburg, Florida and working with Our Lady Queen of Peace Parish in New Port Richey in the Pastoral Care Ministry. I have enjoyed the experience of working with the elderly and the sick. I have a desire to give my life to God in the service of people and to live simply.
My wish is for the congregation to keep the Franciscan spirit in their lives and to be faithful to the devotion of the Crucified Lord and the Eucharist.